| | | |
| --- | --- | --- |
| Chen Jiqun Art Show Echoing Steppe Art Show 2019 | | |
 
 
 

home

<

 
 
 

 

Chen Jiqun oil painting:

 

 
 

 
 
 
 
Contact Artist:
email: jiqunchen2002@yahoo.com
phone:+86 18910771197
Qr code: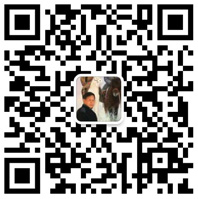 | | | | |
| --- | --- | --- | --- |
| | Scan the QR code and listen to the Wuzhumuqi flag song: | Scan the QR code and listen to the song of Nai Lin Gol: | Scan the QR code and enjoy the Nai Lin Gol MV: |
Origin: 50 years ago, two painters (middle and right) were in the Nalin Gol summer pasture: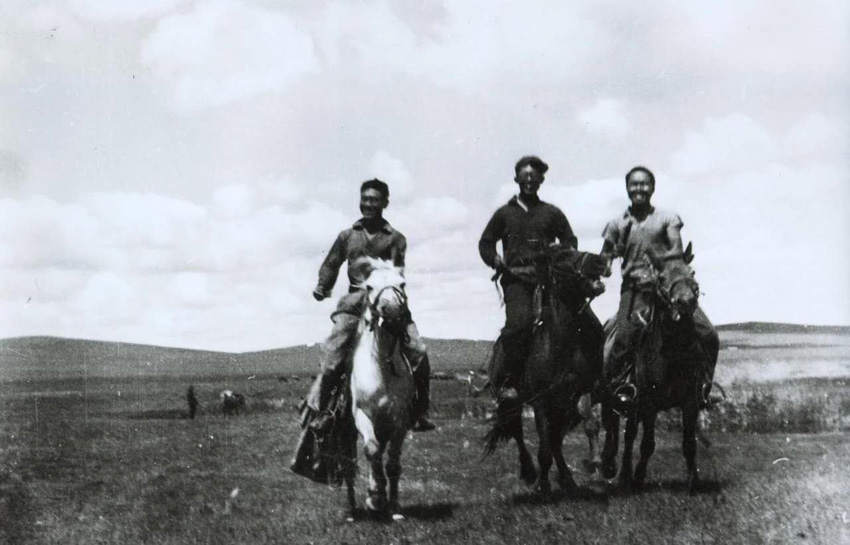 50 years later, the second "Echoing Steppe Art Show" will be held:
Place: THE CULTURAL PALACE OF NATIONALITIES IN BEIJING, CHINA
Time: May 26-31,2019


Participating artists take a group photo (April 2019):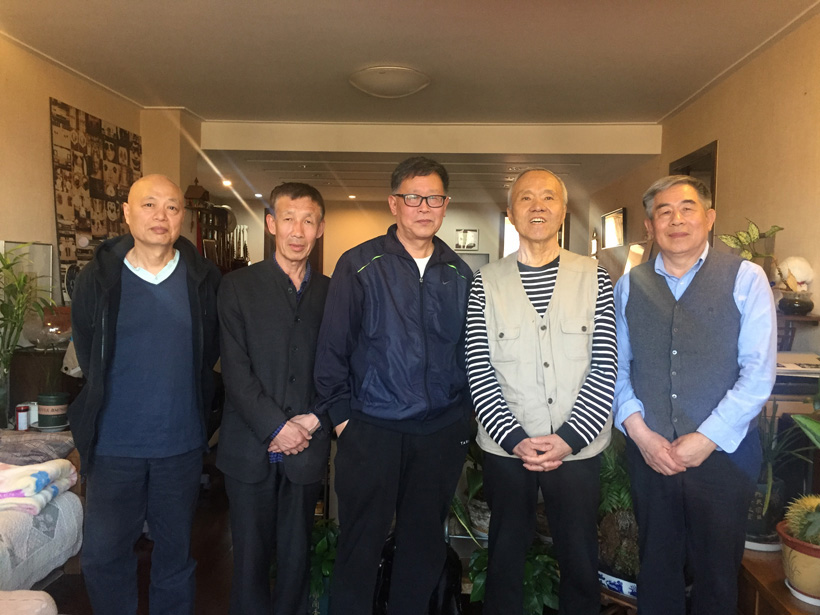 In 1999, the first "Echoing Steppe Art Show" was held at the China National Art Museum in Beijing.
Second person on the left was the president of the Central Academy of Fine Arts: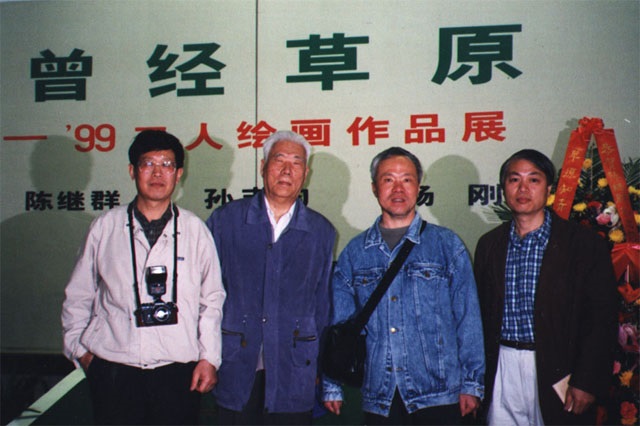 Chen Jiqun was in the studio (2007)
The painter's testimony:
In the last century, I lived in the Mandubaolige grassland, the hometown of 《Wolf Totem》, for more than ten years.
I realized that the nomadic culture and the grassland have been symbiotic for thousands of years, and it is a real
ecological civilization. For 50 years, my paintings have been associated with Steppe Grassland and I am very honored.
Chen Jiqun's resume:
Born in 1947, he was admitted to the Central Academy of Fine Arts in 1963. In 1967, He and Jiang Yan and other students
went to the East Wuzhumuqi flag to graze, Inner Mongolia, and returned to Beijing in 1980.
In the 1980s, he became a professional painter. In the 1990s, he traveled between pastoral paintings and foreign exhibitions.
In 1999, he participated in the "Echoing Steppe Art Show".
In 2000, he founded the Prairie website ( www.163art.com ) to work on grassland painting and ecological protection.
In 2015, he won the Mongolian "Advanced Cultural Worker" award.
Currently, he has several websites and cooperates with environmental NGOs, responsible for grassland special funds,
nomadic between painting and environmental protection.
"Echoing Stepp 5 people Art Show 2019", Chen Jiqun works:
 
1
 
 
 
 
 
 
 
2
 
 
 
 
 
 
 
3
 
 
 
 
 
 
 
4
 
 
 
 
 
 
 
5
 
 
 
 
 
 
 
6
 
 
 
 
 
 
 
7
 
 
 
 
 
 
 
8
 
 
 
 
 
 
 
9
 
 
 
 
 
 
 
10
 
 
 
 
 
 
 
11
 
 
 
 
 
 
 
12
 
 
 
 
 
 
 
13
 
 
 
 
 
 
 
14
 
 
 
 
 
 
 
15
 
 
 
 
 
 
 
16
 
 
 
 
 
 
 
17
 
 
 
 
 
 
 
18
 
 
 
 
 
 
 
 
 
 
Links to other works: www.jiqunchen.com
 
 
 
 
 

Link:


Painter devotes artistry to protecting environment in Inner Mongolia

 

 
"Echoing Steppe Art Show", Chen Jiqun Catalogue:
| | | | | |
| --- | --- | --- | --- | --- |
| | Title | Size (cm) | Medium: | Creation age |
| 1、 | 1997 - NOMADIC END | 100 x 70 | Oil on canvas | 2008 |
| 2、 | LOOK BACK - WHITE HORSE 5 | 80 x 100 | Oil on canvas | 2010 |
| 3、 | THE SOUL RETURNS TO THE "NAILIN" RIVULET | 120 x 120 | Oil on canvas | 1999 |
| 4、 | SUMIYA / HREDSMAN | 37 x 26、 26 x 37 | Pencil drawing | 1976、1976 |
| 5、 | PRIMARY SCHOOL STUDENT / HREDSMAN'S NAP | 37 x 26、 26 x 37 | Pencil drawing | 1975、1974 |
| 6、 | THE CAMEL CAR | 160 x 130 | Oil on canvas | 1998 |
| 7、 | HERDSWOMAN IN A RED ROBE | 160 x 130 | Oil on canvas | 1996 |
| 8、 | THE YOUNG "CHAO GE" | 160 x 130 | Oil on canvas | 1996 |
| 9、 | TOW HORSES | 60 x 80 | Oil on canvas | 2007 |
| 10、 | WINTER PASTURES | 80 x 100 | Oil on canvas | 2013 |
| 11、 | NOLA | 60 x 50 | Oil on canvas | 1994 |
| 12、 | 20TH CENTURY - UJUMCHIN TRIBE | 180 x 250 | Oil on canvas | 2014 |
| 13、 | THE HERDSMEN IN THE HOMETOWN OF "WOLF TOTEN" | 182 x 350 | Oil on canvas | 2007 |
| 14、 | SUMMER RANCH THAT YEAR | 129 x 96 | Oil on canvas | 2012 |
| 15、 | HERDING HORSES IN "NAILIN" RIVULET | 199 x 149 | Oil on canvas | 2012 |
| 16、 | "NAILIN" RIVER SCENERY | 80 x 100 | Oil on canvas | 1996 |
| 17、 | THE LAMB ROSE WITH THE MORNING MIST | 90 x 60 | Oil on canvas | 2008 |
| 18、 | RETURN TO TENGGER | 160 x 130 | Oil on canvas | 2004 |
19

Anti-Qing leaders at the beginning of the last century

145

x 112
 

2017

20

Summer

70 x 90

画布油画

2015

21

Watch

80 x 60

画布油画

2011

22

Winter 1968